Mumbai, March 14: Adding another feather to her hat, Surekha Yadav, Asia's first woman loco driver, become the first woman loco pilot of Vande Bharat Express as she took over the semi-high speed Express from Solapur to Chhatrapati Shivaji Maharaj Terminus(CSMT) on a regular shift.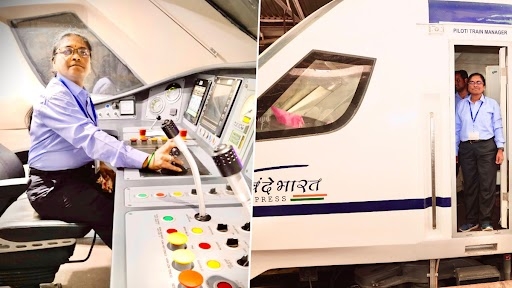 The officer of the Central Railway gave the information saying, she piloted the Solapur-CSMT Vande Bharat Express train on 13th March 2023 and it was a proud movement for Indian Railways. Surekha Yadav was felicitated by fellow train drivers at the Chhatrapati Shivaji Maharaj Terminus for this achievement.
Union Minister of Railways Ashwini Vaishnaw praised tweeted, "Vande Bharat - powered by Nari Shakti. Smt. Surekha Yadav, the first woman loco pilot of Vande Bharat Express".
Yadav expressed her gratitude for being given the chance to operate the high-speed Vande Bharat Train. When asked about the first experience of driving state of art Vande Bharat train, she said, "Vande bharat is a semi high speed train , equipped with advance technology, hence, needs more alertness as compared to the traditional trains."
"She was thankful for giving her the opportunity to pilot the new age, state-of-the-art technology Vande Bharat Train. The train departed Solapur at right time and reached CSMT 5 minutes before time. The crew learning process involves signal observance, hands-on new equipment, co-ordination with other crew members, observance of all parameters for running of a train," the Central Railway wrote.
Hailing from Satara in Maharashtra, Yadav became India's first female train driver in 1988. For her achievements, she has been honoured with many awards at the state and national levels.
As per available records, Yadav was selected by the Railway Recruitment Board, Mumbai, in 1987. She was selected and joined the Central Railway as an trainee assistant driver in 1986 at the Kalyan Training School where she trained for six months.
.
.