It has been a year since the first-ever Indian infrastructure company registered its first Guinness World Record in the Guinness Book of World Records in the internationally important road construction segment.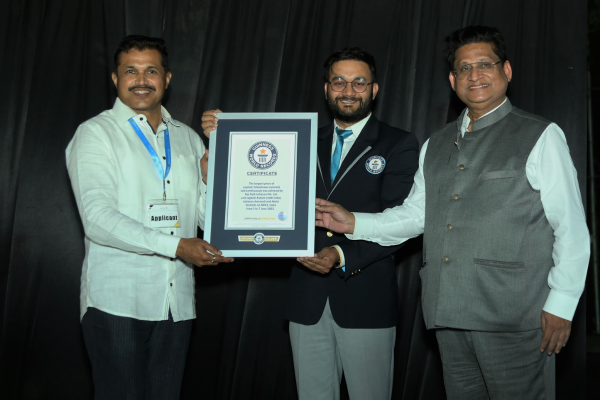 Every year, nearly a thousand people across the world apply to the
Guinness Book of Records
in the hope of getting their names printed in the rarest of rare books. Apart from new records, Guinness World Record also receives over 50,000 inquiries each year from potential record breakers. However, very few lucky people manage to do it through their record-breaking achievements. About 4,000 world records are published in the Guinness World Records books each year.
RajPath scripts history Globally
Scripting history globally
,
the National Highway Authority of India (NHAI) and Pune-based Infra company Rajpath Infracon had constructed 75 km continuously paving the longest stretch of road with bituminous concrete in less than 5 days at NH6 (new NH 53). This achievement was dedicated to Azadi@75 celebrating the 75th anniversary of Indian Independence.
"The longest piece of asphalt/bituminous concrete laid continuously was achieved by Raj Path Infracon Pvt. Ltd. and Jagdish Kadam (both India) between Amravati and Akola Districts on NH53, India from 3 to 7 June 2022," says the certificate by the Guinness World Records."
This effort was also applauded by the Union Minister of Road Transport and Highways, Nitin Gadkari, as he said that the 84.4 Km single-lane continuous Bituminous Concrete Road is equivalent to 42.2 Km of 2-Lane Paved shoulder road. The minister added that the team of 728 NHAI employees and 2500 workers including the independent consultants were involved in the job that started on 3 June at 7.27 am and was completed on 7 June at 9:20 pm. The work was completed in record time.
The successful completion of this project and achievement of this record has contributed as a catalyst and helped to promote and uphold the national cause and initiative of "Gati-Shakti". Raj Path Infracon looks at this as an invaluable opportunity to leave its indelible impression in the domain of nation-building and development commensurate with its motto "Building the Nation Beaming with Pride".
It is not the first time for RajPath Infracon
It is not the first time RajPath has created a world record, interestingly, the company has already carved its name in the Limca Book of Records, by constructing a 39.69-km road between Pusegaon and Mhasurne in Satara within 24 hours. The road was three and a half meters wide and 39.69 kilometers long, covering Pusegaon, Jaigaon, Aundh, Gopuj, and Mhasurne. The work was completed with the help of about 474 workers and 250 vehicles and machinery.

Why are these Guinness World Records important for India?
Achieving a Guinness World Record in infrastructure puts India in the global spotlight and brings international recognition. It showcases India's capabilities and achievements in building large-scale infrastructure projects, which can enhance its reputation and attract global attention.
Building infrastructure projects that break records often requires innovation, advanced engineering techniques, and cutting-edge technology. Pursuing Guinness World Records can push India to adopt and develop new technologies, which can have a positive impact on the overall technological advancement of the country.
Achieving Guinness World Records in infrastructure projects during Azadi Ka Amrit Mahotsav leaves a lasting legacy for future generations. These record-breaking projects serve as a testament to India's dedication to building a modern, sustainable, and resilient infrastructure, setting a benchmark for future endeavors and inspiring further advancements.
GWR in Infrastructure globally
It should be highlighted, that there are very few registered Guinness Books of World Records related to the infrastructure domain. "
Qatar is one of the few countries that has achieved the Guinness World Records title for the longest continuous piece of asphalt concrete.
Qatar's Public Works Authority-Asha completed the 25.275 km longest piece of asphalt concrete in less than two weeks. The road was part of the Al Khor Expressway and took 10 days to complete, working 24/7.
While records are meant to be broken, in a recent development, 100 km of road was constructed in a record time of 100 hours on the Ghaziabad-Aligarh Expressway. 100 kms of bituminous concrete was laid on the road in 100 hours highlighting the dedication and ingenuity of India's road infrastructure industry.
It is worth noting that while Guinness World Records can be a significant achievement, the true measure of the success of infrastructure projects lies in their long-term impact, sustainability, and ability to address the needs of the population.